Commando
Stéphane de Luca

—

Permalink

| TrackBack: https://stephanedeluca.com/trackback/239 — updated on Nov. 13th, 2018 02:46 exists for 25 years & 2 weeks ago -

.

Sept. 10th, 1998 02:41 by

Commando is the video game I developped from October 1997 to September 1998 with a very small team.

The project started with the development of a prototype of the game that we developped in only 3 months.
Commando is a military action game designed and developped at Virtual Studio in France for Namco Japan on Sony PlayStation.
I started the project for some weeks when Pavlos Germidis joined me for what I believe was a great adventure.
In addition to driving the project, as always I did the 3D engine, tools and game programming while Pavlos Germidis brought the artwork design and the story pitch; he also did—by his own—the nice CGI which introduces the game.
Pips did the 3d realtime modelling and texture design based on Pavlos' bio designs.
Many trips to Japan was required in order to aggree on the right game design and technical features to be developped, and—obviously—all the financials terms. The contract was signed in Tokio at the Namco building.
You can see me below, with the white shirt and Namco's CEO and its team: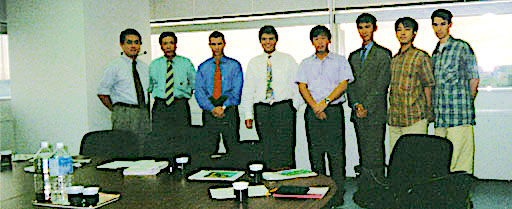 You can see Pavlos on the right and me during the commando project: