There's an app for that: Santa-Claus
Dr. Pouille -- that's Dr. P. Will to you! -- presents a fantastic 3D interactive snowball this Christmas and New Year 2010!
This season, Dr. Pouille wants you to get Santa Claus to give as many presents as possible per 60 second round!
Each round you can improve your score and there's no limit to the number of rounds -- the current record is 169 points: can you beat it?
Let Santa Claus do the job alone or let your finger give him a hand so that he can knock out more presents & you get more points. +3 points if he knocks one out with his head and +1 point with his feet.
One more thing… if you shake your iPhone, you create a real snowstorm vortex to speed up Santa and give you more of a chance to open presents and earn points!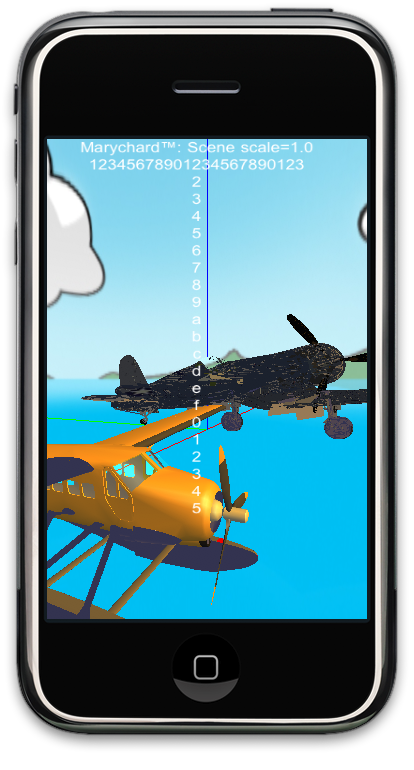 Marychard™ Technology is a all-in-one hi-performance set of tools and runtime code dedicated to the iPhone® and iPod® devices.
Written in Objective-C 2.0 for Cocoa, the technology is made of the following components:
-- a runtime environment ;
-- a set of tools to produce highly-optimised data for the iPhone®.
Runtime libraries
Runtime libraries are made of 3 different components that can be used separatedly or in concert:
-- hi-performance rendering of complex 3D objects and animations ;
-- physics engine: it integrates physics model over time in realtime so that you can simulate rolling balls or whatever you want, linked to the iPhone® sensors such as accelerometers ;
-- game engine: it maintains actors lifecycle thru your game session ;
-- multiplayer engine and protocol : with SDLTP 2.0 -- the TCP-based protocol dedicated to MMO games and persistent environement -- you can develop any simple or advanced multiplayer games you might think of., including MMOs. The server side is developped in Java J2SE as a set of distributed modules that cooperate to handle high-loads.
Production tools: SdlImage®
TEN
Thru the new version TEN of the long-lived SdlImage™ technology, Marychard performs the following set of operations:
-- imports Collada files and generate iPhone® optimized runtime data files to be displayed on the device, still handling objects hierarchy and animation ;
-- optimizes and boosts your set of textures to make your 3D realtime visual much better than you never seen before, without extra work!
Keep posted…