LEKIOSQUE.FR: WORLDWIDE FIRST 3D NEWSSTAND
Stéphane de Luca

—

Permalink

| TrackBack: https://stephanedeluca.com/trackback/880 — updated on Nov. 12th, 2018 23:38 exists for 12 years & 9 months ago

Dec. 15th, 2010 14:10 by

Designing and developing our iPad application, rethinking and imagining what future users might need. In response to this question, we created a product strategy establishing our industry as B2C, leaving behind B2B or B2B2C focuses. I wanted the user to be our strategy's focal point, so we created an agreeable, engrossing world where the user is relaxed and ready to read.

Our stepping-stone strategy results offer many pleasant surprises.
A few images of our application
I wanted to create an interesting world where the reader is engaged and finds immediate gratification. This virtual world and the entire application had to avoid complexity or sophistication: simplicity was the key!
The kiosk in 3D real time
The kiosk itself is organised into 9 different sections: the desk plus 8 thematised sections.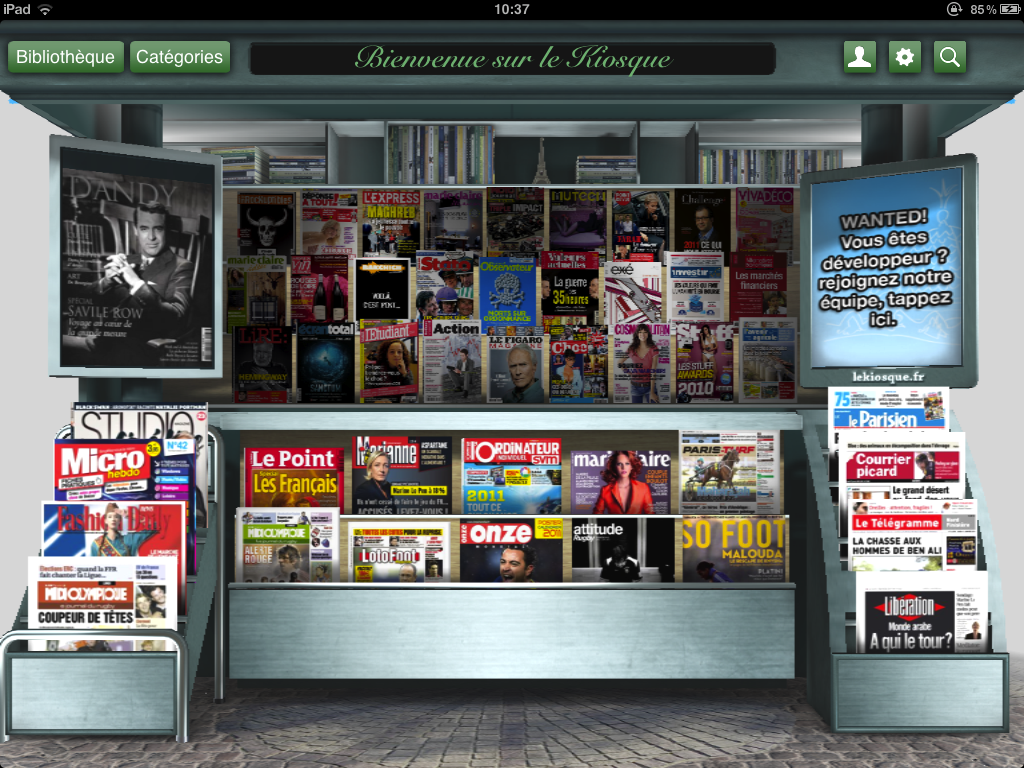 Page turning, that simple right to left movement that we all do, became the application's signature gesture and was used for the majority of interactions, especially to access categories: we "turn" the kiosk to go to another category: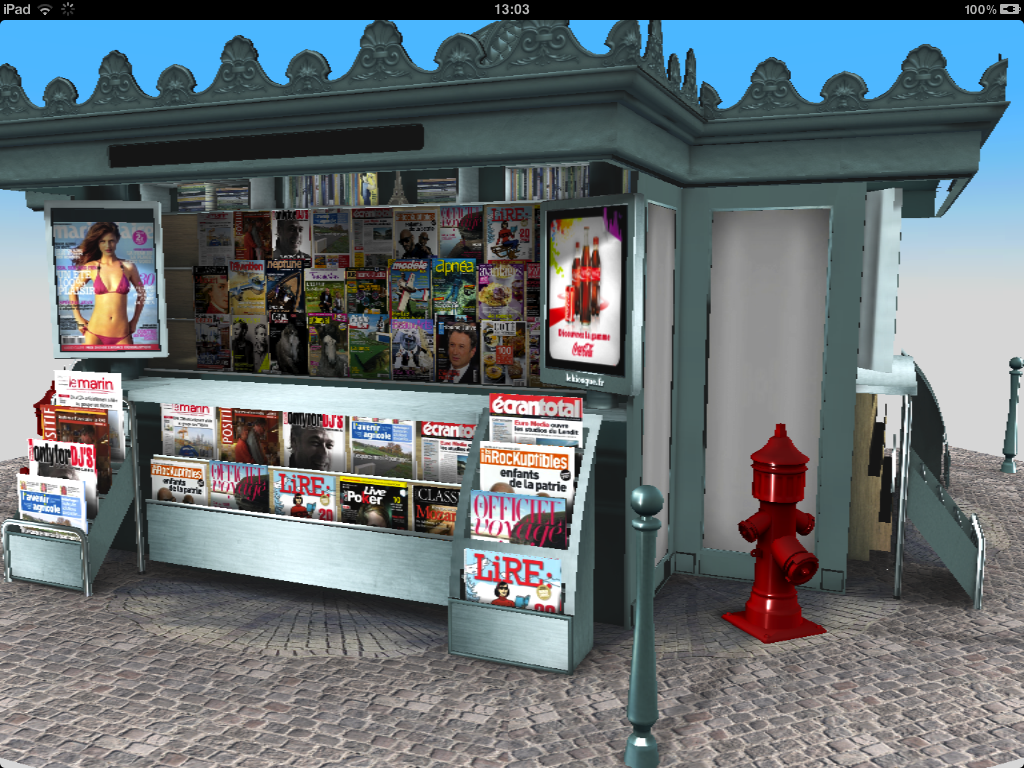 Access more than 450 titles and do "full text" searches
With so many titles available — and we are constantly updating our selection with new titles — we decided to offer several to guarantee user satisfaction. One way to find and select titles is to navigate directly from the kiosk or from the category and sub-category pop-ups.
The second is to do a full text search: LeKiosque probably has the Internet's largest text database. We indexed all the articles available in the French press and we subscribe to foreign titles. All this so the user can search directly from an iPad.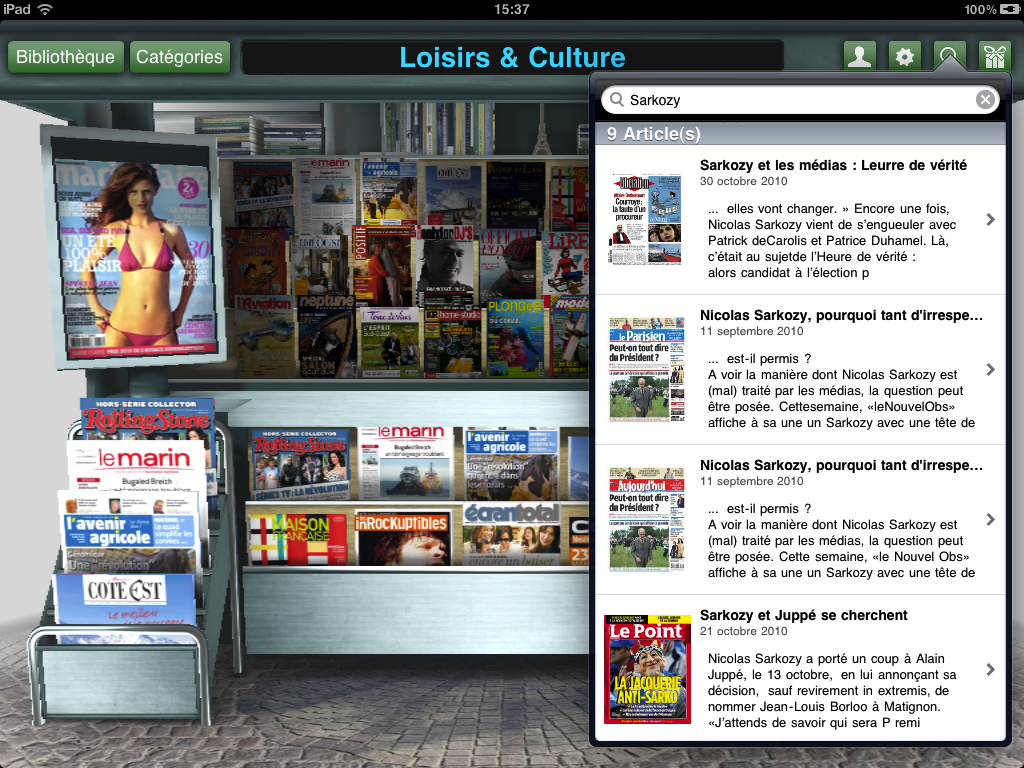 Magazine files and the different means of purchase
Purchasing on LeKiosque is mega-simple: a quick "tap" and you've bought an issue or a subscription! And we're the only news application to use the Apple in-app purchase.
Several types of appealing promotions, like credit packages where you can buy reduced rate magazines, are available if you wish.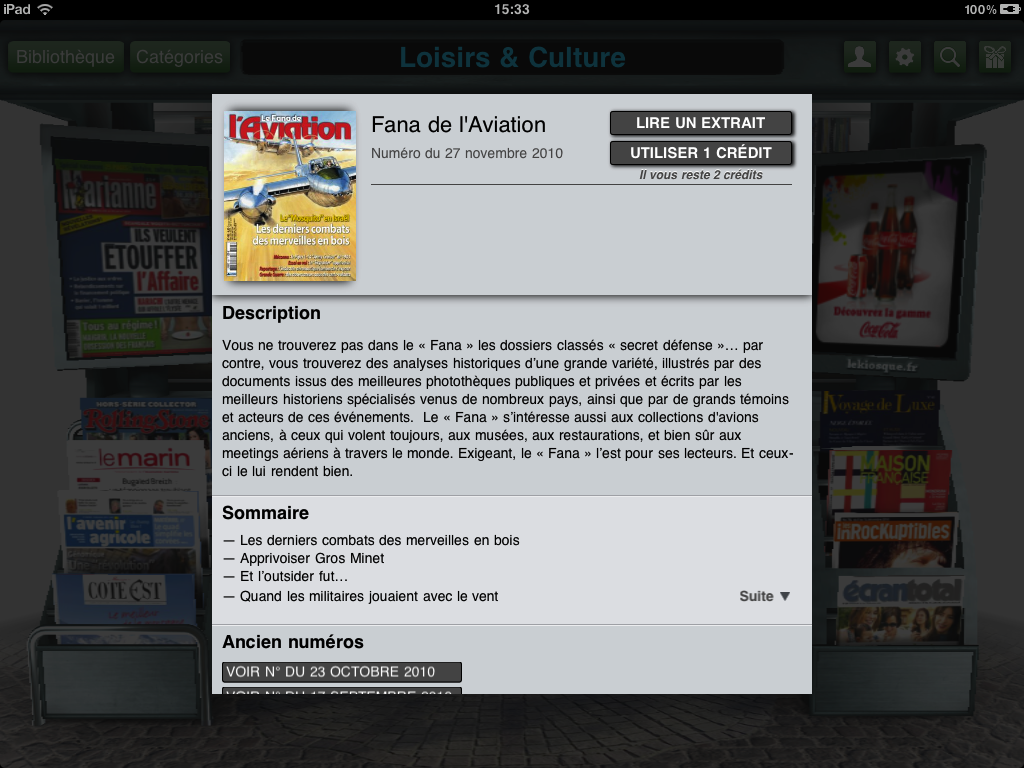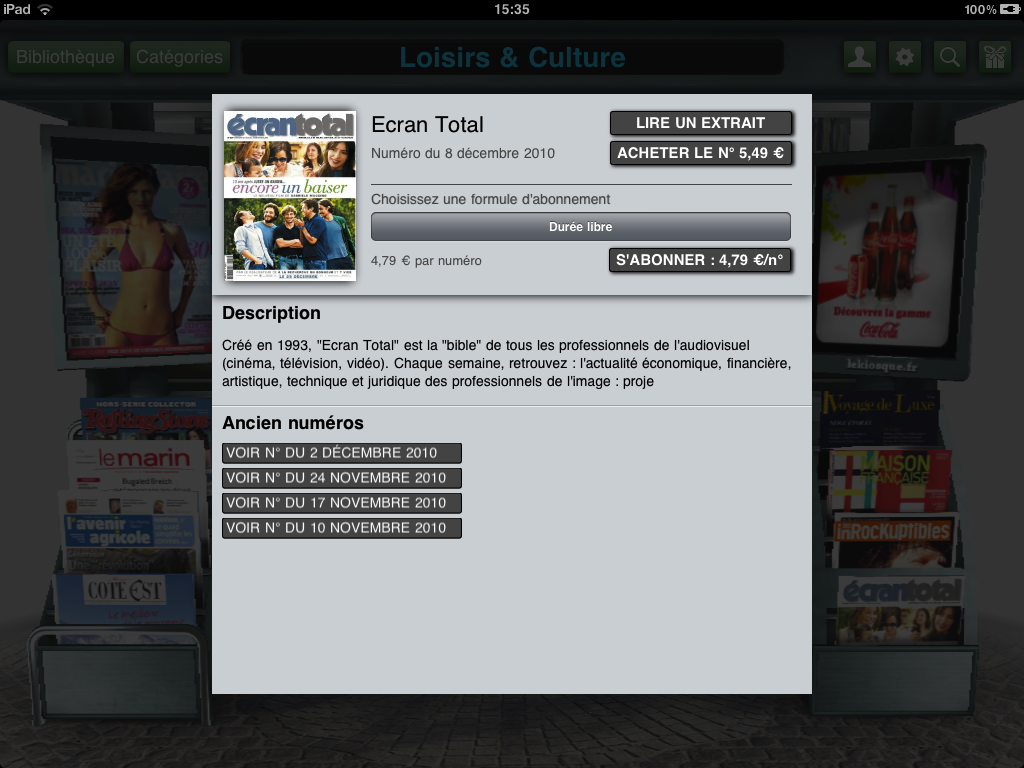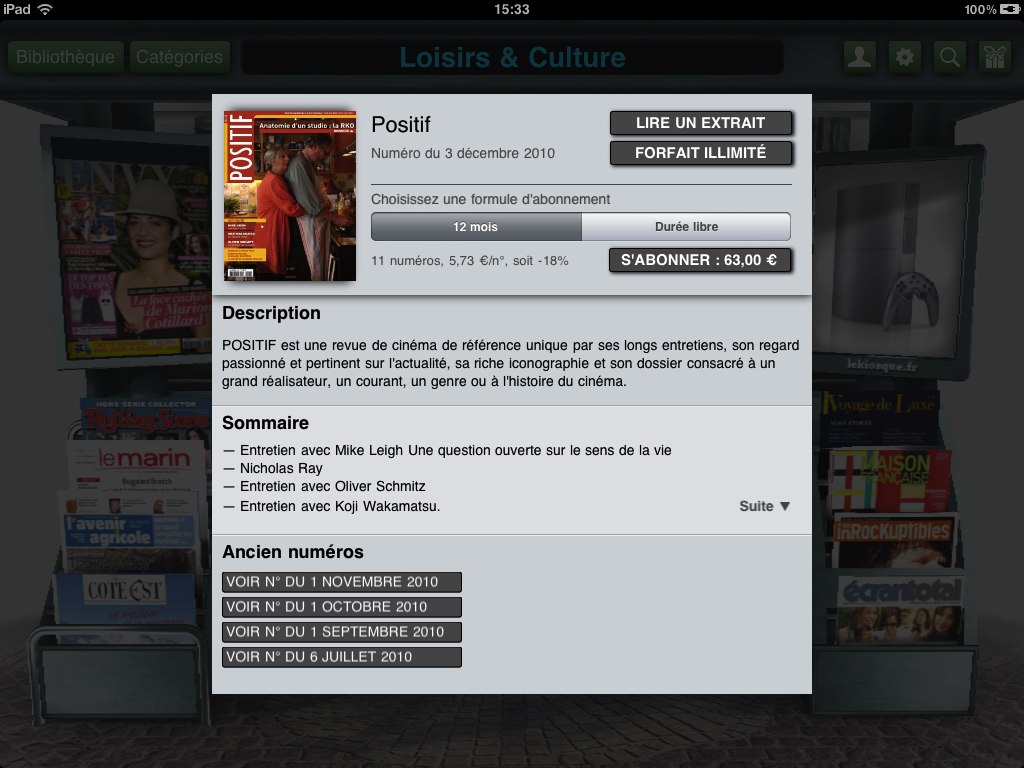 User's Library
This is the user's space. It's a comfortable area where the user feels good. We chose wood for its warmth and because it's a reassuring and comfortable material. Then we made it modern with brushed aluminum.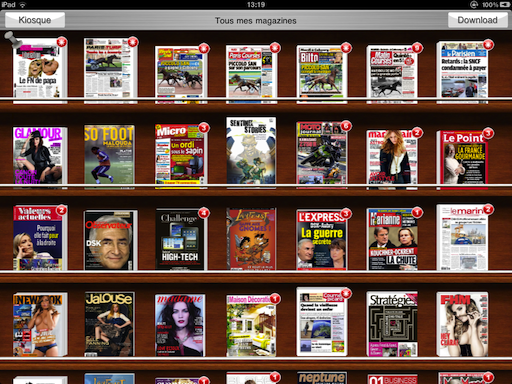 This is where the user can store magazines. The user can also find the new editions of their subscription publications here — unread titles are highlighted with a red dot indicating the number of issues not yet read.
Reading
We paid particular attention to studying reading from an ergonomic point of view. You'll find 3D page turning effects that you'll enjoy. Regular readers want efficiency, and they can get it instantaneously by changing pages on the iPad without moving their hands.
You can read in two-page side-by-side mode so you can enjoy the magazine layout. Or you can appreciate the comfort of one-page reading, whether it's in portrait mode where zoomless reading is made easy for magazines like "Le Point", or in landscape mode where vertical page scrolling lets you take advantage of the iPad's width. A total of 3 zoom levels are available in addition to a special mode specifically designed for the newspaper's larger format.
As soon as you "tap" to purchase, you can start reading immediately: there's no need to wait for the magazine to download because we offer streaming that works just like it does for videos, you can enjoy reading immediately!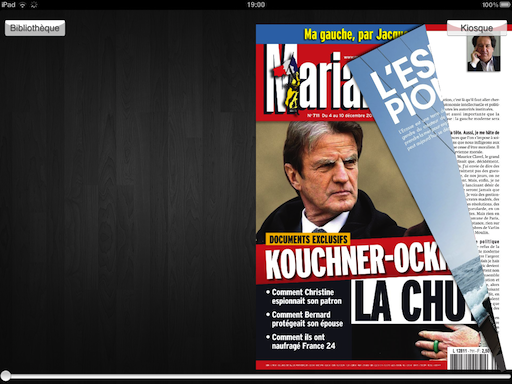 Online and offline reading
In addition to making reading available immediately thanks to our unique magazine streaming application, you can also read offline.
When you buy magazines, they're automatically streamed and stored onto your iPad. As soon as material is on your iPad, you can read offline: you'll see small green pins in your library indicating what's has been successfully downloaded (the grey pins indicate partial downloads).
LeKiosque is ecologically-friendly to other iPad applications: you can decide to discard any magazine whenever you want from your library. And you can decide to re-download older issues, it's all up to you!